Invitation to contribute to ListenHereNow – a listening map project
http://www.ListenHereNow.org
The City Meditation Crew is curating and creating a series of audio works, and images, to compose a listening map for digital and print distribution. The first map entries are focused upon water: its myriad forms, metaphoric possibilities, and imaginative associations. Audio works may be in any recorded audio form: essays, poetry, music, experimental audio, documentary sound…We are interested in audio works inspired by listening to urban and landscapes.
Check out the founding contributors' work here: http://www.ListenHereNow.org.
City Meditation Crew will reside in Seattle in July to meet with anyone interested in contributing to the map. Anne Beffel, Associate Professor of Art at Syracuse University is serving as contact person for the City Meditation Crew workers, who prefer to remain highly visible but primarily nameless. Please contact Anne at abeffel@mac.com City Meditation Crew previous projects may be viewed at: http://www.CityMeditationCrew.org.
***
 Poets, PowerPoint & a Delightful Misuse of Company Time 
What happens when a poetic imagination is given access to PowerPoint and far too much free time?
West of Lenin and Ripple Productions are excited to present an evening of poetic explorations in slideshow form with Poets, PowerPoint & a Delightful Misuse of Company Time on July 19, 2012 at 7:30 p.m. at West of Lenin in Fremont. Tickets to this one-night-only event are $30 and proceeds benefit Humanities Washington.
The evening was conceived by West of Lenin proprietor and Humanities Washington trustee A.J. Epstein and Washington State Poet Laureate Kathleen Flenniken. Featured presenters include Flenniken, Keri Healey (local playwright recently shortlisted for The Stranger's Genius Awards) Peter Pereira (family physician and Copper Canyon Press poet), Martha Silano (most recent collection is The Little Office of the Immaculate Conception), Molly Tenenbaum (author of The Cupboard Artist), Barbara Earl Thomas (writer and painter whose work has appeared at Seattle Art Museum),and Nico Vassilakis (of staring poetics). Each writer will present original work accompanied by a digital slideshow, melding visuals and words into PowerPoint poetics.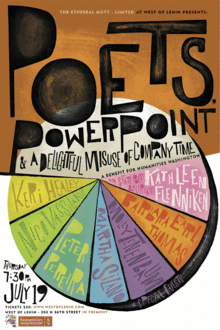 YOU CAN GO
What: Poets, PowerPoint & a Delightful Misuse of Company Time [Details]
Where: West of Lenin, 203 N. 36th St., Seattle [Directions]
When: 7:30 p.m., Thursday, July 19
Cost: $30, tickets available from
Brown Paper Tickets
21+